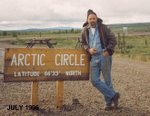 Several people have forwarded the following information from Bob Hoover's blog…
It is my sad duty to tell all of you who read Bob's blog that Bob passed away this past Friday, August 13. How much he will be missed is incalcuable. Thank you all for all the support you have given him. I'm his wife. He was a great man.
Robert S. Hoover passed on August 13, 2010.  Thank you very much for the information and entertainment you provided for me for over 15 years. – Slack
If you are into home built aircraft or into classic Volkswagens then you may have heard of Robert S. Hoover. For everyone who hasn't heard of him you have been missing many words of entertainment and wisdom.
Following are links to some interesting reading from Mr. Hoover: