Do you need a quadcopter that fits in the palm of your hand, is very flyable, and costs less than a trip for two to the movie theater (popcorn included)? No, of course not, but you will probably want one.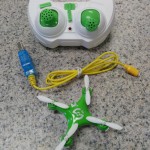 I found the Cheerson CX10 on one of my favorite Chinese vendors websites for about $20 and I had to take a chance. Sometime these cheap toys are very cheap and are a poor value. In this case, it was worth every cent and a few more. It flies incredibly well. It offers 3 settings for control. It has a flip features, that will allow the quadcopter to automatically do an acrobatic flip. I have since ordered a few more for friends and family.
The weak spot is the blades; those are likely to go first. The package includes an extra set, but you may find yourself ordering more in the future. The CX10 is not indestructible. It is actually quite heavy for its size and can cause itself damage when hurled against hard surfaces. The first one I bought it no longer flying, but I definitely got my money's worth. I have ordered another for myself, and several more for friends and family.
It has a built in lithium pack that is not readily replaceable. It comes with a charger powered by USB. It charges in about 20 minutes, and flies for about 5 minutes. It has LEDs front and back, which make it real easy to keep orientated even when flying relatively far away.
These can be purchased at Amazon or directly from China:
Cheerson CX-10 – Amazon, may ship from China, check description.
Top Race® TR-MQ1 – Amazon Prime eligible, probably ships from USA check details, appears to be the same, just rebranded.
Cheerson CX10 – Banggood.com where I ordered from originally.  This can somtimes ship from USA warehouse for a few dollars more.